Universal Sintered Products and Machinery Is the perfect solution for carbon industry. We Manufacture Various machines for Making carbon Brushes, Carbon Blocks, Carbon Vanes,Etc. Which has the larger application in various industries like sugar,textile,paper mill railways. Etc.This Brushes Can be Use for various application like powertools,Automobile,Industrial Electrical etc.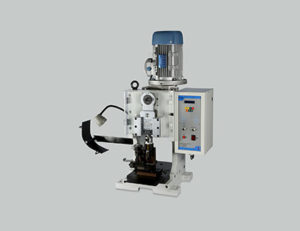 Carbon brush crimping machine is use to crimp the terminal with the copper wire. Terminal material may be brass, copper ,M.S etc which can be use to fix with the copper wire .Sometimes instead of spot welding operation crimping operation is required to connect the copper wire end with the terminals or lugs so this machine is useful for crimping.
Copper Wire Diameter :- 1 mm to 6 mm 
Terminal thickness :- 0.5 mm to 2 mm
Machine Tonnage:- 2 to 10 tons
Product output :-
12No/mint (for Semi automatic feeding system)
20 No/mint (for chain feeding system)
Method of operation :-
Machine is design with the easier setting. Top Ram can be lifted up by opening one bolt and top punch can be replaced. Bottom Die can be changes with 2 bolts opening and again top ram is to be put at the place. Setting time is 10 minutes.
Machine can come with automatic and semi automatic feeding system. For semi automatic feeding system terminal is to be place manually in die and crimping is to be carried out , while in automatic feeding system terminals come in chain form and crimping is to be carried out.